Southern Piedmont Woodturners (SPW) is a nonprofit organization dedicated to enhancing the art of woodturning through education.
SPW achieves this mission by offering the following:
Ten monthly meetings featuring woodturning demonstrations – all open to the public.
The July meeting each year is a business meeting for members only and includes the election of Officers.
The December meeting is our club's Christmas Party and is for members and their families only.
We offer:
Workshops for members on a variety of topics featuring local and nationally known Turners
Mentoring Program to promote skills transfer and training.
Members' Library containing videos, tapes, books, and other educational resources.
Community Outreach-Introducing the art of woodturning to the general public by setting up demonstrations at community art walks, fairs, and festivals. Providing speakers and
demonstrators upon request to schools and other organizations.
Fellowship – Woodturners love to share ideas, techniques, and skills!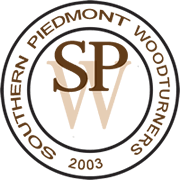 Barry Russell had the idea to start an AAW Chapter in 2002 and began the organizational work in January of 2003 with a dinner meeting at DJ'S restaurant with Jerry Minderlin and Mike Craig. The three decided to move forward and the SPW was born.
The first meeting was held in April of 2003 at the Cannon Memorial Library. Two turners attended, besides Jerry and Barry. Each month after that, a couple more turners joined. By June of that year, SPW had grown to one dozen turners. Officers were elected an application was made for a charter. The SPW was off and running. At that time, the organization relied on woodturning videos for the monthly programs, which were also used to start the SPW library.
In 2005 the SPW became affiliated with the Cabarrus Arts Council and two years later, began meeting in the Davis Theater in the Historic Cabarrus County Courthouse. And now, we are privileged to have established a growing network of singular artists who present live demonstrations not only 10 out of 12 monthly meetings each year, but during special SPW quarterly and annual events. Barry admits, "…I had no idea, and I doubt if any of the charter members and officers had any idea of what we would become." The SPW now has 72 members from Concord and surrounding counties and continues to grow steadily.
As a member chapter of the American Association of Woodturners, we invite anyone that shares our interest and passion for this unique art form to join us.
SPW Club By-Laws
Click to view the SPW Bylaws (PDF)